Main content starts here, tab to start navigating
Menus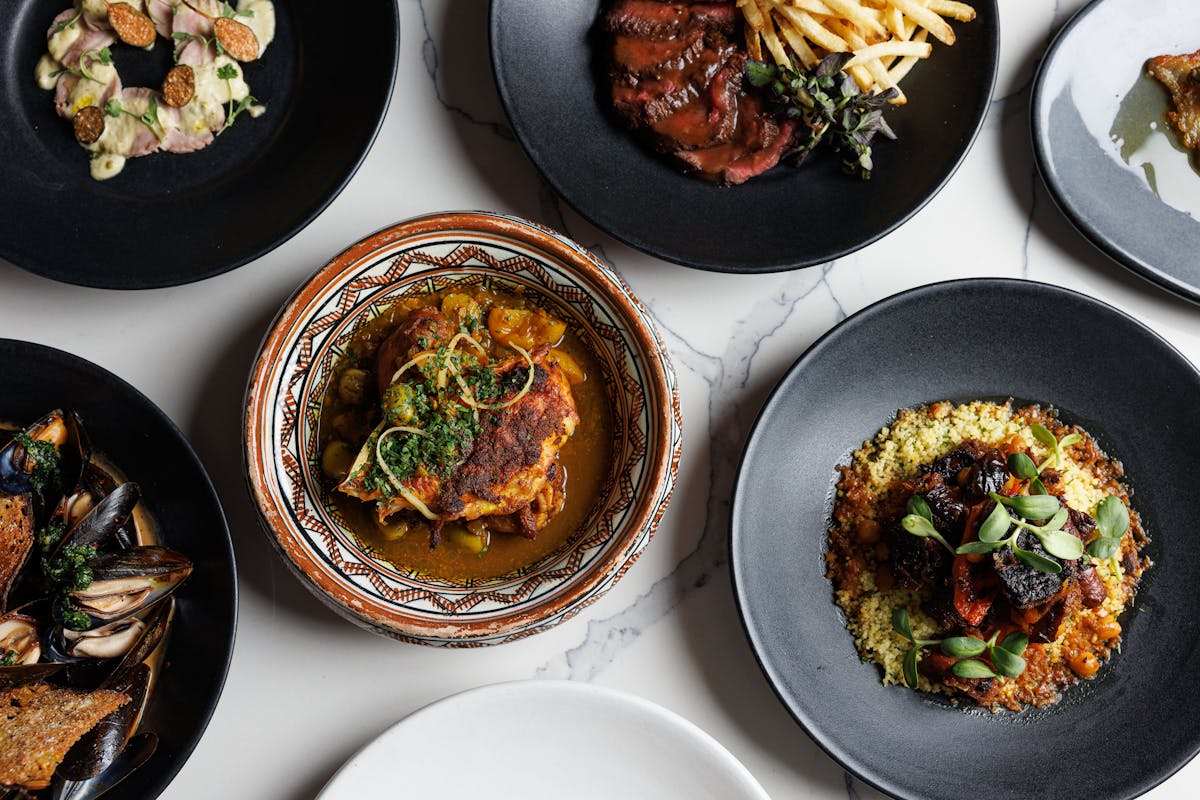 Slide 1 of 4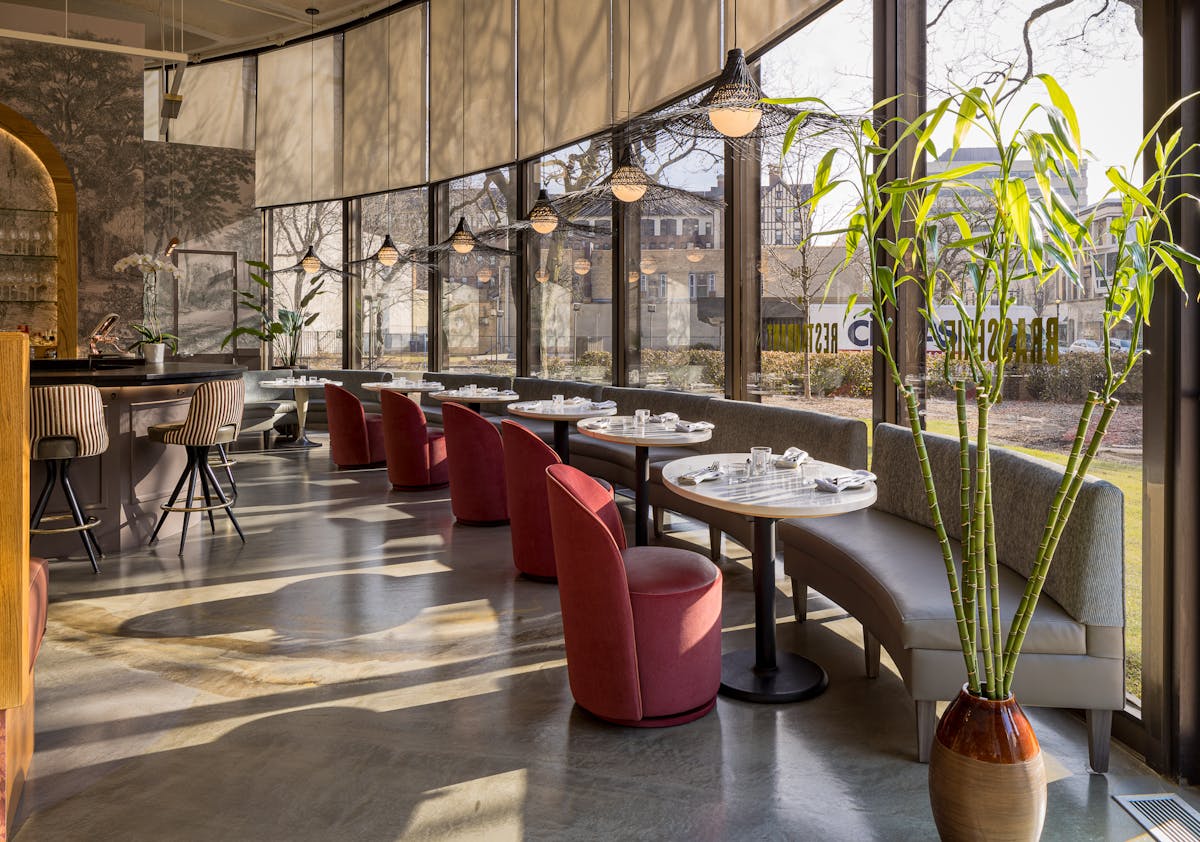 Slide 2 of 4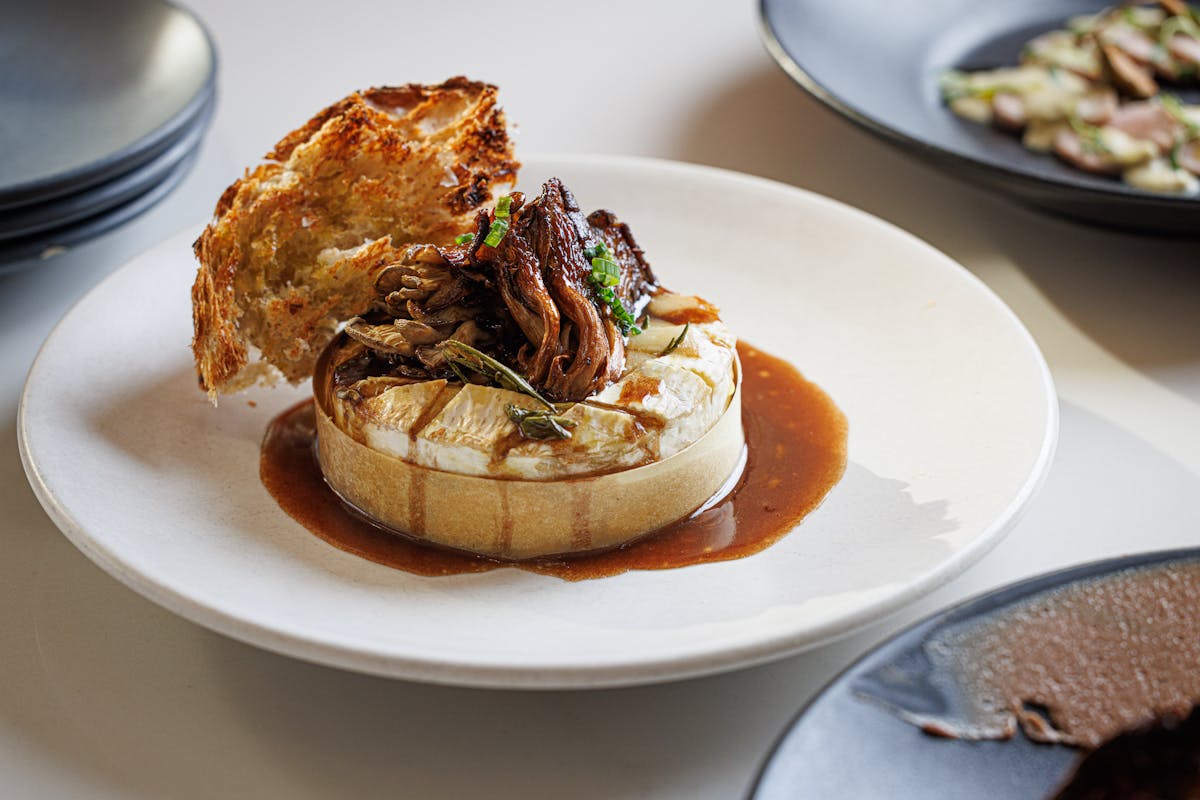 Slide 3 of 4
Slide 4 of 4
Please note the website menu does not reflect the exact menu. Menu items may change from time to time.
Les Appetizers
Soupe de Poisson GF*

Purée of red drum, tomato, fennel, saffron rouille crouton

$9

Classic Lyonnaise Salad GF*

Lardon, perfectly poached farm duck egg, dijon mustard vinaigrette

$13

Caesar Salad GF*

Parmesan, marigold, country bread croutons, anchovy

$12

Moroccan Eggplant and Chickpea Salad GF V

Tomato, preserved lemon, harissa vinaigrette

$11

Sea Bass Crudo GF

Coconut, ginger, lime, and leek oil

$13

Tarama-salata GF*

Puréed roe of cod and sea urchin, olive oil, toasted country bread

$12

Burgundy Snails GF

Whipped potatoes, bacon, and persillade

$16

Goat Cheese Tartine

Sundried tomato tapenade, housemade focaccia

$11

Duck Liver Mousse GF*

Medjool date jam, toasted country bread

$14

"Full Wheel" Baked Camembert GF*

Stone oven roasted wild mushrooms, marrow butter jus

$25

Roasted Onion Tarte, "Pissaladiere"

Sweet onions, white anchovy, black olive, flakey crust

$10
Les Mains
Moroccan Specialties

North African influences abound in France; from fashion to food and add an enlivened sense of flavor and flair which are some of the favorite parts of French culture to both Chef Debbie and Amy. Please enjoy our interpretations of these rustic, exotic dishes.

Tagine of Chicken GF*

Braised chicken, green olives, apricot, preserved lemon, couscous

$36

Vegetable Couscous GF* V

Roasted delicata squash, celery root, turnip, carrots, dates

$33

Lamb Couscous GF*

Braised lamb, Merguez sausage, chickpeas, prunes, carrots

$40
Les Entrées
Fish Sustainably Farm Raised.
Oven Roasted Monkfish GF

French lentil "risotto", squid ink sauce, marigold

$31

Paillard of Chicken GF

Tomato confit, old fashioned mustard sauce, oven roasted broccoli, polenta

$27

Classic Skate Wing GF

Almonds, capers, brown butter and toasted cauliflower garnis

$28

Steak Frîtes GF

Sliced Bavette steak, red wine demi-glace, frîtes

$52

LeTour Smashburger GF*

Double smash burger, raclette cheese, grilled onions, malt mayo

$19

Brothy Banger Mussels GF*

Spicy, red harissa broth with white wine-butter

$27

Grilled Oyster Mushroom Kebab GF*

Broccoli & celery root purées, french lentils, sumac

$28

14oz Heritage Black Angus New York Sirloin GF

Butter based red wine demi-glace, frites

$60
Les Plats d'Accompagnements
Gratin Dauphinoise GF

Creamy, layered potatoes

$10

Ratatouille á LeTour V

A mediterranean blend of goodness

$9

Pomme Frîtes GF V

handcut

$7

Oven Roasted Thumbelina Carrots GF V

Seasonal and lovely

$10

Oven Roasted Watercress & Haricots Verts GF V

Oh, so French, more watercress than beans

$10
Happy Hour
4:30 pm - 5:30 pm (Weeknights)
Raclette

By the piece

Marinated Olives and Caper Berries

By the bowl

Oysters on the Half Shell

By the piece

Drinks

Bartenders Choice

$5
Shellfish
Les Fruits de Mer Platter

Oysters on the Half Shell, Colossal Tiger Prawn, Hand Harvested Diver Scallop, Maine Lobster Tail, Wild Caught Snow Crab

$95

Want to double it $175

Caviar

Hackleback $65

Bowfin $40

Paddlefish $52

Imported Crown Royal Ossetra $185

All 30g vessels served with toast points and creme fraiche

A la Carte - Market Price

Oysters on the Half Shell

Tiger Prawns

Diver Scallops

Lobster Tail

Snow Crab
Les Desserts
Mille Feuille "1000 Layers"

Vanilla mousseline, braised figs, oranges

$10

Bittersweet Chocolate Mousse gF

Brandied cherries

$10

Crispy 'Meringue' Pavlova gF

Lemon cream, chocolate & caramel sauce

$10

Caramelized Apple "Tarte" Cake

Almond flour, apple cider sauce, crème fraîche

$10

Chef's Selection of Cheese

Per selection please enquire about our daily offering

$8 per selection

Ice Cream and Sorbet

Daily selections

$4 per scoop

gf - gluten free / gf*- can be made gluten free / v - vegan
Cocktails and then, Wine…

We've created this list in hopes you will enjoy our cocktails and spirits before and after dinner. We also hope you will consider trying one of our terrific wines to enjoy with your dinner. This is one of the things the French really do right. Hope you'll give it a try.
Les Cocktails
Deb's Darling

Italicus, a bergamot liqueur that buoys the essence of joy, Giffard Crème de Pêche, and Sparking. Served on the rocks.

$14

LeTour G & T

Abundance abounds with twinning gins, French Mahon gin brings the essence of pine front and center, while New Amsterdam the Juniper. Both blending seamlessly with the master's housemade rosemary tonic and pink peppercorns. Served with lots of rocks.

$15

Moulin Rouge

Strawberries in the winter are ok! Galliano Rouge, Giffard Fraise, Sparkling, and Soda Water. Served on the rocks.

$12

The Crazy Horse

Overshadowed by the Moulin Rouge's "Red Mill", this tour de force of Ilegal Mezcal, Aperol, and lime, this is reminiscent of our beloved, Vera Charles. Served up.

$14

Marrakesh

Bigallet China-China, a bittersweet orange liqueur blended with Dolin Sweet Vermouth and Sparkling Rosé. Served with orb of ice.

$15

French 625"

Sparkling Wine, H by Hine V.S.O.P, and a touch Lemon. Served up.

$14

Old Fashioned

Evan WIlliams makes for a great straightforward drink. Splash of bitters. Served with a rock.

$13
Sans Alcool
The Elixir's Tart

Fresh, sparkling ripe, tart and creamy, all at the same time with peach and verjus blanc. on the rocks

$8

Ma Petite

Ma Petite's favorite. Ginger Beer, french mint, lime, & soda. Served up.

$8

Provence in Glass

Fresh Lemon, Housemade Lavender simple. Served on the rocks.

$8
Les Bières on Tap
Moody Tongue, Pilsner,

Aperitif, Chicago, ABV 5

$8

IPA of the Day

$10

Flanders Sour,

Duchesse de Bourgogne Original, Belgium, ABV 6.2

$10

Chimay Triple,

Golden Ale, Belgium, ABV 8

$12
Les Bières in The Bottle
Kronenbourg 1664,

French Lager, France, ABV 5

$8

Unibroue Wit

Blanche de Chamble, Belgium, ABV 5

$10

Well Being,

Gluten Free, Illinois, ABV 0

$8

Old Rasputin Stout,

Nitro, California, ABV 9

$7

Aval Cidre

France, Abv 6

$8
Sparkling
Pierre Sparr, Crémant D'alsace Brut Réserve, Nv

$18

Mawby Grace, "sex," Rosé, Michigan, Nv

$15

La Vita Prosecco, Italy, Nv

$13
Blanc
Trenel Macon Village, Burgundy, France, 2021

$14

Domaine Laroche Chablis, Saint Martin, France, 2021

$19

Château La Freyneele, Bordeaux Blanc, France, 2020

$13

Marc Brédif Vouvray, France, 2020

$16

Pierre Sparr Pinot Gris, Alsace, France, 2020

$13
Rosé
Le Provençal, Côtes De Provence, France, 2021

$14
Rouge
Maison Joseph, Drouhin Bourgogne, Laforêt, France, 2019

$15

Château De Pierreux, Brouilly, France, 2020

$14

Clos Des Centenaires, Côtes-Du-Rhône, Rive Droite, France, 2020

$14

Château Saint André Corbin, St Georges Saint-Émilion, France, 2019

$17

Étude Pinot Noir, Estate Carneros, Ca

$20
After Dinner
Ruby Up

Licor 43 and espresso. The name says it all. Served up.

$12
"Best of all, our after dinner drink cart, we'll bring it by the table!"
Sparkling
La Vita Prosecco, Italy, NV

$52

Pierre Sparr, Crémant d'Alsace, Brut

Réserve, NV

$72

Mawby Grace, "Sex", Rosé, Michigan, NV

$60

Charles Heidsieck, Champagne Brut Réserve, Nv

$111

Pierre Sparr, Crémant D'alsace Brut Réserve, Nv

$72

Camille Braun, Cremant D'alsace Brut, Nv

$80

Telmont, Champagne, Brut Réserve, 2018

$141
Rosé by The Bottle
Le Provençal, Côtes De Provence, France, 2021

$56
White by The Bottle
Loire Sauvignon/Chenin Blanc Grapes

Vincent Gaudry, Le Tournebride Sancerre, France, 2020

$84

Jacques Dumont, Sauvignon Blanc, Loire Valley, France, 2021

$77

Michel Redde et Files, Pouilly-Fumé, Estate Bottled, France 2019

$65

Marc Brédif, Vouvray, France 2021

$56

Patrick Noël, Cuvée Excellence, Sancerre, France, 2021

$118
White Burgundy/Chardonnay
Trenel, Macon Village, France, 2021

$56

LaTour Pouilly Fuisse, France 2020

$90

Deux Roches, Pouilly-Fuissé, Vielles Vignes, France, 2020

$67

Domaine Laroche, Chablis Saint Martin, France 2020

$67

Chablis Fourchaume, Francine Bachelier, Premier Cru, France 2019

$132
Alsace
Pierre Spar, Alsace Pinot Gris, France 2020

$54
Bordeaux/Sauvignon Blanc, Semillon, Muscadet
Chateau La Freynele Blanc, Bordeaux , France

$52
Rhone Valley Blend "GSM" (Grenache, Mouvedre, Syrah)
M. Chapoutier Croze- Hermitage Petite Ruche Blanc

$84

M. Chapoutier, Luberon La Ciboise Blanc, France

$55

Faury, Condrieu 2020 (viognier)

$132
Other Places and Grapes
Pazo das Bruxas, Rias Baixas Albarino Pazo Das Bruxas, Spain, 2021

$72

Donnafugata, Sicilia Lighea, Italy, 2021

$64

Cantina Mesa, Vermentino Di Sardegna Giunco, Italy, 2016

$56

Ram's Gate, Sauvignon Blanc Carneros, CA, 2019

$88

Salto Skouras, Moschofilero, Greece, 2021

$56

Maboroshi Junmai Ginjo, Sake, Japan, Nv

$68
Burgundy/ Pinot Noir
Château des Jacques, Morgon, France 2018

$70

Maison Joseph Drouhin Bourgogne, Laforêt, France, 2019

$64

Domaine Gille Nuits St George Les Bruises

$162

Château de Pierreux Brouilly, France

$56
Cote du Rhone Blend GSM (Grenache, Mouvedre, Syrah)
Clos des Centenaires Cotes-Du-Rhone, Rive Droite,

$55

Domaine de Beaurenard, Côtes du Rhône), France 2020

$62

Domaine Breyton, Croze-Hermitage, France 2020

$78

Château La Nerthe, Châteauneuf-du-Pape, France 2019

$143

Domaine La Bouïssière, Gigondas, France, 2018

$88

Domaine De Cabasse, Gigondas, France, 2019

$75
Bordeaux Cabernet Sauvignon
Château des Laurets Baron, Saint- Emilion, France, 2016

$92

Château la Garance, Graves, France 2014

$140

Chateau Saint André Corbin St Georges, Saint-Emilion, 2019

$68

Château Kirwan Margaux 3eme, Grand Cru Classe,

$240

Domaine Maire Côtes du Jura Rouge, France

$60
Other Places and Grapes
donnafugata, Sicilia Nero d"avola Sherazade, Sicily, Italy

$56

Ramey Cellars, Claret Napa Valley, CA 2018

$90

Etude Pinot Noir, Estate Carneros, CA

$78

L'Usine Cellars, Pinot Noir Annapolis Ridge, Sonoma Coast, CA, 2018

$180

Sequoia Grove Cabernet Sauvignon, Napa Valley, CA 2019

$123
Family Style Dinner $65 per person
Served in three courses selected by the host & served to the center of the table for all guests to share.
1st Course
Classic Lyonnaise Salad

Lardon, poached duck egg, dijon mustard vinaigrette

Caesar Salad

Reggiano cheese, croutons, white anchovy

Baby Bib Lettuce Salad

bleu cheese, hazelnut

Focaccia Tart

Goat cheese, sun dried tomato tapenade

Eggplant & Chickpea Salad

Confit tomato, preserved lemon, harissa vinaigrette

Brothy Banger Mussels

Spicy, red harris broth with white wine-butter
2nd Course
Chicken Cous Cous

Braised chicken, green olives, apricot, preserved lemon

Lamb Cous Cous

Braised lamb, merge sausage, chickpeas, prunes, carrots

Vegetable Cous Cous

Roasted delicata squash, celery root, turnip, carrots, dates

Oven Roasted Monkfish

French lentil "risotto", squid ink sauce, marigold

Slow Roasted Salmon

Haricot vert, smoked trout roe, scallion beurre blanc

Steak Frites - additional $5 per person

with demi-glace
3rd Course
Chocolate Mousse

House made brandied cherries

Profiteroles

Vanilla ice cream, salted caramel sauce

Seasonal Taste Au Fruit